Guaranteed rent for up to 5 years? No problem. We've cracked it.
Hands-off, hassle-free letting and a really reliable rental income.
Like a no-strings chat about what we do?
Just call +44 (0)1223 650328. We'd love to help.
Making landlords' lives easier
Letting property comes with lots of great benefits, but it brings its fair share of headaches too. If you're worrying about void periods, maintenance and new regulations, or just getting tired of dealing with tenants and agents, we'd love to help. Nest Egg Property Solutions are a different kind of property company, designed to make life easier for landlords. We offer property management and investment services and are based in Cambridge. We work with local businesses and hospitals to help house their professional employees and doctors (who do twelve to twenty-four month rotations). Due to high demand we are actively looking for houses to rent on a long-term basis in the local Cambridge and surrounding areas. We offer a true alternative approach to traditional estate agents and letting agents and do not charge fees to you as the property owner. Right now we have more clients than we have properties, so we are hoping to move as quickly as possible for all parties. We utilise a guaranteed rent service safeguarding your rent for up to five years, giving you an income you can rely on, while keeping your property let – and looked after. It's about taking the pressure out of managing your portfolio, and giving you long-term peace of mind.
How our rent guarantee works
Our rent guarantee is exactly that – a guarantee that you'll get your rental income, month in, month out. We'll work with you to agree a fixed monthly figure and a contract time frame you're comfortable with, usually three to five years. Then we'll keep on paying, even if your tenants don't. Wondering how it works? Well, we effectively become your tenant, guaranteeing you a fixed amount each month. We then let your property to fully vetted professional tenants and look after maintenance and management – leaving you free to enjoy a regular, reliable income, completely hands-off.
Make letting easier, starting today
TFor a friendly, no-obligation chat about how we can make life easier, just give our team in Cambridge a call on +44 (0)1223650328 or send us a quick email We'd love to help.
Or request a call back
Click the button below and leave us your details and we will call you back ASAP.
A fixed, fair monthly figure
There's nothing complicated about the way we work out your rental income. It's a straightforward, transparent system that really works for everyone. We just estimate your outgoings, including maintenance, void periods, management costs and any agency fees, then deduct that from your rental income. Simple. Your gross rental income - your estimated outgoings = your guaranteed payment.
We've got you covered
One of the biggest worries for most landlords is properties standing empty, creating rental voids. With us, that's not a problem. If a tenant moves out, we'll find a new one – and if there's a void in between, we'll keep paying the rent. No pressure, no panic, no problem.
Full tenant finding and vetting service
Void periods fully covered, every time
Non-payments handled and covered
Fast, friendly tenant troubleshooting
Upkeep that really adds value
We're committed to really looking after our landlords' properties. So, as well as carrying out regular inspections and dealing with maintenance issues, we often refurbish homes to boost their rentability. We'll always get your agreement first, but we'll handle any renovations required. If the refurbishments bring in a higher rent, we'll keep the difference, but any appreciation in the capital value of your property is, of course, yours to keep.
Regular property inspections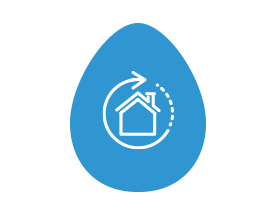 Reactive maintenance covered
Refurbishments when needed
Staying ahead of regulations
The government's property regulations change regularly, so keeping up with the latest standards and filing the right paperwork can feel like hard work. With us, it's all handled for you. Our friendly team knows exactly what's needed and we'll keep your property right up to date.
Safety certificate renewals
Licences kept up to date
Regulations checked and met
A strong, long-term partnership
Working with Nest Egg Property Solutions is an easy, stress-free way to safeguard your income and look after your assets. The best part is, because your rent's guaranteed, it's in our interests to keep your property let, looked after and attractive to tenants – so we can keep earning too. It's a great way to look after your portfolio, whether you want to:
Protect a monthly side income, with minimum hassle
Make your money work harder so you don't have to
Create a consistent, reliable retirement income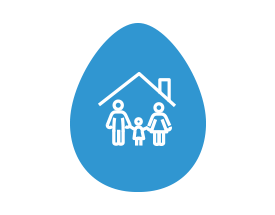 Leave a property legacy for your family
Like to sell someday?
Whether you're thinking ahead to your retirement or shifting your investment somewhere new, it's good to know you've got a buyer lined up when the time's right. Nest Egg property Solutions offer a service where we'll agree a purchase price with you up front, which we're prepared to pay if you wish to sell within our contract period. If you'd like to find out more, just get in touch and we'll talk it through. +44 (0)1223 650328 or send us a quick email.